Great news! My boyfriend, Minh, finally bought a car yesterday after about about a month of looking. Helping look for this car was one of the most stressful and difficult things I've done. Minh has never done this before so he didn't know where to start. I also know next to nothing about cars because I'm super spoiled by my Daddy, who takes care of all our auto affairs. We also needed to find a car fast because he and his sister needed the car to get to school and work.
As the weeks went by with no luck, I quickly became very antsy and stressed about the whole situation. We decided to sacrifice precious time so we could find a good car to invest in that was safe, reliable, and within our budget of $6000-$7500. The time riding the bus paid off because the car we got was a steal! I am, by no means, an expert but I just wanted to share some things I've learned from this whole ordeal, hopefully it will help someone else in the same situation.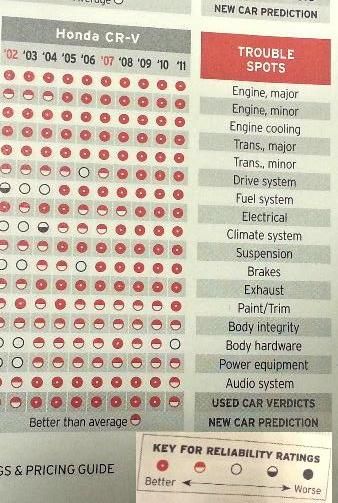 Consumer Reports sample
Patience.You'll need it, lots of it. It takes a long time to search for deals and research cars. We really didn't want to rush into anything and make a mistake. Sometimes you find a good deal but can't make it out to see the car and it gets sold to someone else so you're back to square one. And sometimes you find a good car but look it up on Carfax and find out that the seller was lying to you. If you have time and patience, you'll likely end up with finding a good car.

Decide what cars you want. I went to a local Barnes and Nobles and looked at the consumer reports magazine to see what cars were the safest and most reliable. There's a used car reliability chart towards the back that looks like the image on the right.I was only looking at cars from 2000 onwards. My top picks for reliability and price are the Toyota Camry, Toyota Corolla, and Honda Accord.

Meet my new friends, Mr. Carfax and Ms. Kelley Blue Book (KBB). Before going to see a car, I always look at the KBB values and the Carfax report if the car's license plate number is available.

I paid about $60 bucks for a Carfax subscription, which allowed me to search an unlimited number of cars within a month time frame.

This allows me to search the history for all the cars I was interested in. I look for reported mileage, ownership history, and if the car has been in any accidents or if the car is in salvage condition.

This research is very important to ensure that you are not being lied to.We were about to buy a very nice Honda Accord with only about 70,000 miles on the odometer however, the Carfax report said the last reported odometer reading for this car was over 200,000 miles...!

Look for deals in your local newspaper. I religiously perused the classified section of Vietnamese newspapers because they had a lot of ads. We found our car in the Người Việt newspaper. I preferred this method because the cars are mostly from private owners. I felt this was less stressful for me because I don't enjoy working with dealers. This method was also convenient because most of the cars are located in Orange County, which made going to see the cars much easier. Be cautious of sellers who routinely buy cars from the auction to fix up and resell, they tend to do a crappy job because they care more about making a profit. I preferred to look for people who were selling personal cars because they tend to take better care of it.

Check out local bulletin boards. I found a great car looking at the bulletin board of a local grocery store...you never know.

Scan Craigslist cautiously. I was a little weary with looking for cars on Craigslist because my parents had a bad experience where they were almost robbed when shopping for our last car. However, there are lots of cars on here and it's in English :) My recommendation is to get a Carfax account and look up the cars before you go. Many sellers post pictures of their cars with the license plate and I would look up cars first before I set up an appointment to go see the car.

Ask a person who knows cars to go look at cars with you. We were lucky to have my dad help with the whole process. I would look up everything initially but he's the one to tell us if it's worth checking out or not. He also came with us and inspected all the cars.

Paperwork business. Let me tell you, I did not know the paperwork would take so long to go through. This was mainly because they were a first time seller and we were a first time buyer.

If you are buying a car from a private seller in California, visit this link for all the paper work information.
I learned yesterday that you can still buy a car if the title or pink slip is missing. You just need to fill out this form.
Oh the joys of becoming an adult! I'm so glad it's over and done with but I'm also glad that I've learned so much because of this experience. I now know what to do when we're shopping for our next car! I hope someone out there finds this blog post helpful. Happy hunting!